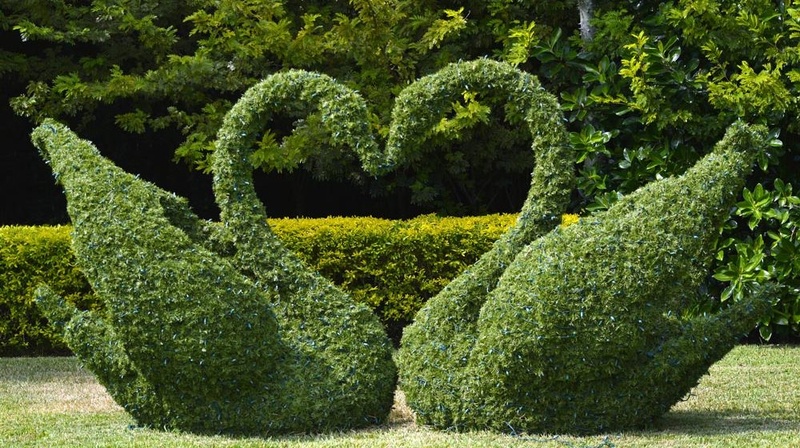 Creating topiary transforms untrained trees and shrubs into beautiful masterpieces. It's not just for formal gardens, though. Incorporating topiary into your home landscape can elevate its refinement or be just plain fun. Follow these basic tips to make your own.
Topiary is a horticultural art form with a distinguished history dating back to first-century Rome. Plants can be shaped into anything from a small ball to a life-sized elephant and everything in between. With the right combination of patience and practice, a topiary enthusiast can create virtually any form he or she wants.
Maybe you're not interested in becoming a world-renowned topiary artist but wouldn't mind adding some sculpted foliage to your landscape. Creating a topiary doesn't have to be labor-intensive or all-consuming, and it might be just the thing for a bed or near your front door. Here are some tips for the topiary newbie.
Choosing a Plant
The first step to creating a topiary is finding and selecting the best plant possible. Follow our three suggestions below to narrow your search.
Health
Creating a beautiful topiary requires a strong plant; imperfections will become more apparent as you trim, train, and shape. Look for a healthy central stalk that will support the plant as it grows. Examine the leaves and branches for evidence of bugs or disease.
Density and Leaf Size
The denser the growth and the smaller the leaves, the better. These characteristics allow for smooth shaping that won't leave you with unattractive holes or thin patches. In Florida, consider Eugenia, boxwood, or yaupon holly.
Shape
Work with the natural form of the plant for the best product. Short, stout shrubs may be best suited for a simple cube or sphere; a tall, narrow tree might be perfect for a spiral; and a tree with a wide base and narrow top could make a fabulous truncated cone.
Making the Topiary
So, you've chosen and purchased the perfect plant. Now what? Here are quick instructions for two simple topiary forms to get you started.
Double Ball Standard
This classic just requires an upright plant like boxwood. It consists of two balls, one on top of the other, with an exposed trunk in between.
Start by planning out the size and position of the spheres. They should be approximately the same size and separated by about 12 inches of exposed stalk.
Once you have size and position in mind, reach into the tree and mark the trunk at the point you want the spheres to end. Prune everything past these marks as close to the trunk as possible. Lastly, form the balls by trimming them into shape.
Rosemary Topiary
This is a fun way to display an herb in your kitchen. It will take several weeks to fully train and form, but the preparations can be done very quickly.
Begin with a rosemary plant that is full on the bottom and narrows toward the top.
Gather the stalks together and gently place a soft hook-and-loop strip (find these online or at your local nursery) around the plant about two-thirds of the way up. Trim away stray branches but be sure to maintain the new conical shape.
Keep the hook-and-loop in place as the rosemary is trained to grow conically; remove it when the plant retains its shape without the artificial support. This one will take more time than the double-ball standard, but the result is worth it!
To introduce a dash of style to your landscape, follow our suggestions for selecting the right plant and shaping it into your very own topiary—it might be the first of many!