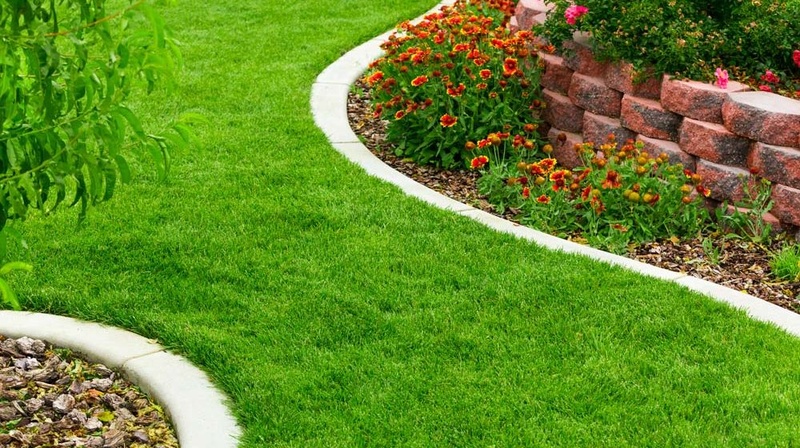 Create Great Garden Borders
Propel your garden from appealing to stunning with the simple addition of a border. Edging can be as modest as a single brick row or as intricate as alternating plants lined by zig-zagging rustic metal—the options are as endless as the benefits.
In this article, we'll discuss at the oft-overlooked (but oh-so-important) feature of garden borders.
At its most basic, a border is merely a way of creating a demarcation between two areas. And yet, establishing a clear line around a flower bed dramatically increases the aesthetic appeal of the entire landscape.
Why Borders?
So what's the big deal, and what will a border do for your garden? Here are our top four reasons to create a border around your garden beds.
Definition
A defined border provides clarity to a landscape in a way few other features do. It puts the viewer's mind at ease to know where the lawn ends and the garden bed begins.
Texture
This is particularly true of structural borders. Stone, brick, or other inorganic materials break up the landscape and add textural variety.
Attention
Even the simplest borders attract attention. They can be used to highlight those areas of the yard that you wish to feature or draw the eye away from the less attractive parts of the property.
Pizzazz
No, not pizzas. A fun, classy border adds pizzazz; it makes any garden bed more exciting. It captures viewers' attention and compels them to enjoy your garden.
Structural Borders
Homeowners can edge a landscape with any number of materials; the options are practically unlimited. The best option for you will be determined by your personal preferences, working budget, available time and effort, and accessible materials.
You can't go wrong with common materials like stone or brick, and your creativity is the only limitation for the number of patterns you can use. Try laying flat brick in a basket weave or stack bond pattern or dig a small trench and lay the brick in a row vertically.
Borders also present an opportunity for do-it-yourself upcycling of other materials you may have sitting around the backyard. Fill a gabion wall with just about anything; cut down and re-use old pallets; or even place overturned glass bottles in a row.
Organic Borders
Another option is to use flora as a natural garden border. The right plant for you will depend on the style of garden, other surrounding plants, and the kind of boundary you want.
Grass-like plants like liriope, Aztec grass, and mondo grass are relatively small and unobtrusive. They'll stick around all year long without much maintenance, and spring and summer will bring some flowers to each

Shrubs may provide a more prominent border to any landscape, but they don't have to be overwhelming. Coontie, Indian hawthorn, Panama rose, and dwarf tibouchina are just a few of the many shrubs that grow slowly or stay small enough through maturity to be viable border options in Florida.
If you love the look of medium or large shrubbery but don't want to conceal your flowerbed, consider backing your garden up to a hedgerow to give you a border on the backside and some contrast to accentuate the colorful flowers.
Choosing the Right Border
Almost all gardens will benefit from a clearly defined border edge, and a quick online search will give any homeowner more ideas than could ever be used on one property. Decide between a structural or organic border and let your imagination do the rest!