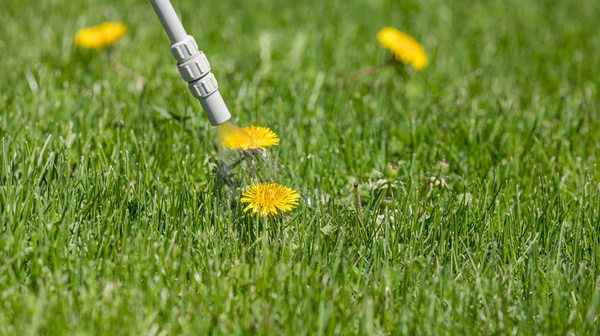 How and When to Use Preemergence Herbicides
Preemergence herbicides are a proactive and preventative alternative to standard weed control measures like mowing and hand pulling. Applied (and reapplied) correctly, they prevent weed seeds from ever germinating. Choose between selective and nonselective herbicide types based on your needs.
It's only January, but warm days and afternoon showers are quickly approaching. This combination of factors brings new growth, most of which is more than welcome after a long winter. Homeowners look forward to the look of a full, lush lawn—it's the weeds they could do without.
We've all used the standard weed-control measures: keeping the grass cut, smothering, and pulling by hand. What if there was another way to manage the weeds in your yard?
Enter preemergence herbicides.
Read on for the down-low on what preemergence herbicides are, how to use them, how to choose the right type for the job, and why timing is critical.
What Preemergence Herbicides Are
Preemergence herbicides are a weed control chemical that is applied and gets to work before weeds emerge. More specifically, to do its job effectively, it must be applied before weed seeds germinate. Other weed controls are reactive—you see the weeds and take action. Preemergence herbicides are preventative and proactive—you know weeds are coming, so you take action now.
Applied correctly, those weeds will never even begin to grow.
Types of Herbicides
As with any home or garden project, don't begin herbicide application without the right tools and information. Selecting the correct type of herbicide is the first step for effective weed control.
Selective Herbicides
This is the category into which most preemergence herbicides fall. Selective herbicides will not harm turfgrass; they selectively target weeds alone. Apply the herbicide (designed for your type of turfgrass) to prevent weed seed germination throughout the entire lawn. 
Nonselective Herbicides 
These herbicides don't discriminate; they stop the germination of all vegetation seeds. Of course, nonselective herbicides would devastate a lawn or garden, but it's a good option for areas where you don't want any plant growth at all.
Time it Right
Preemergence herbicides must be used within a small window of time in a weed's lifecycle. Their effectiveness is contingent upon timing.
South Florida homeowners should apply preemergence herbicides not later than February 1st. In Central Florida, apply by February 15th, and in North Florida by March 1st. These dates are based on typical weather patterns for the late winter. Keep an eye on daily temperatures because you may need to apply sooner if temperatures rise to at least 65° for 4-5 days in a row.
Make it Rain, More Than Once
Preemergence herbicides are activated by water. You can water before or after application and achieve the same result. Forgetting this important step will render your herbicides ineffective. The weeds might even laugh at you as they germinate happily.
A good watering will activate the herbicides for 6-12 weeks. Plan to reapply the chemicals before this window closes, after about 6-9 weeks, during the entire growing season.
Working Smarter
Weeds are an inevitable part of Florida lawn maintenance, but managing them doesn't have to be laborious or aggravating. Plan ahead, do your research, and keep up with watering and herbicide reapplication to make this summer the best one yet for your lawn (and the worst for your weeds).