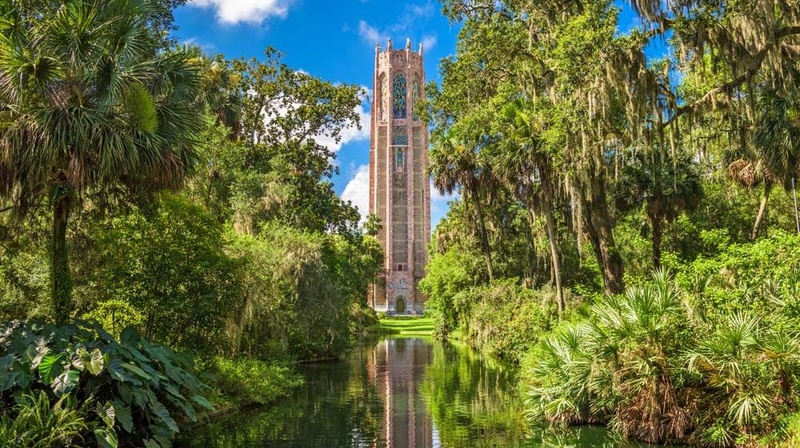 Visit Florida Gardens This Spring
Plant care is a hobby for many, but most homeowners don't have the time to cultivate the private garden of their dreams. You might not either, and maybe you don't have to. Instead, visit a public garden!
Floralawn blogs typically focus on plant care, seasonal preparations, and other essential topics for homeowners, but this post departs from the typical format to introduce some of Florida's most beautiful public gardens. After all, sometimes a dose of visual inspiration does more good than an entire encyclopedia of information.
North Florida – Alfred B. Maclay Gardens
Anyone fortunate enough to find themselves in the state's capital should set aside an afternoon to visit Alfred B. Maclay Gardens State Park, an absolute jewel in North Florida. Although the canoeing, swimming, and fishing in Lake Hall would be enough to make it a worthwhile trip, most visitors come for the Maclay family's historical house and surrounding gardens. Relax among the camellias and azaleas, reflection pool, secret garden, and scenic walkway as you feel the worries of life melt away.
North/Central Florida – Kanapaha Botanical Gardens
Located almost exactly midway between Tallahassee and Orlando are the Kanapaha Botanical Gardens, with its 24 major displays that can be viewed from a 1 ½ mile wheelchair-accessible path. On its 68-acre property are two collections that stand out: the largest public bamboo display in Florida and the most extensive herb garden in the entire Southeastern United States. You'll find weddings, retreats, social functions, and picnics throughout the year at these magnificent gardens.
Central Florida – Leu Gardens
Harry P. Leu Gardens, found just between Winter Park and downtown Orlando, boasts the finest collection of oaks, roses, philodendrons, and other plants that thrive in Central Florida. If the flora doesn't excite you, not to worry—the reference library, art exhibit, and Leu House Museum are alternatives.
Families might find that geocaching on the property—that is, using GPS coordinates to locate hidden containers—is the perfect way to keep younger ones entertained while still being able to walk the gardens.
South/Central Florida – Bok Tower Gardens
Among other things, Bok Tower Gardens is home to one of only four carillons (an instrument made up of 60 bells) in the state. Attend a carillon concert for a unique and memorable musical experience. The pollinator garden, children's garden, endangered plant garden, reflection pool vista, and sunset overlook would alone make the Bok Tower Gardens worth the trip. The 23 million guests since 1929 (and 4.8 stars from 7,700+ Google reviews) would likely agree that the Gardens are one of Lake Wales' special features.
South Florida – Fairchild Tropical Botanic Garden
The 83-acre property of the Fairchild Tropical Botanic Garden is truly a one-stop-shop for all things horticultural. A wedding venue, exotic butterfly exhibit, live music, sunken garden, and more than 3,400 species of plants are only a few of the attractions to enjoy. Fairchild regularly hosts themed events for holidays, school field trips, and even ones suitable for your canine friends. Not to mention culinary classes, educational programs, and… should we go on? No matter your age or interests, Fairchild is practically guaranteed to have you covered. Wherever you might find yourself in the state, there is a garden within driving distance. This spring might be just the time to take a garden day trip and come back to your landscaping with a new sense of wonder and inspiration.