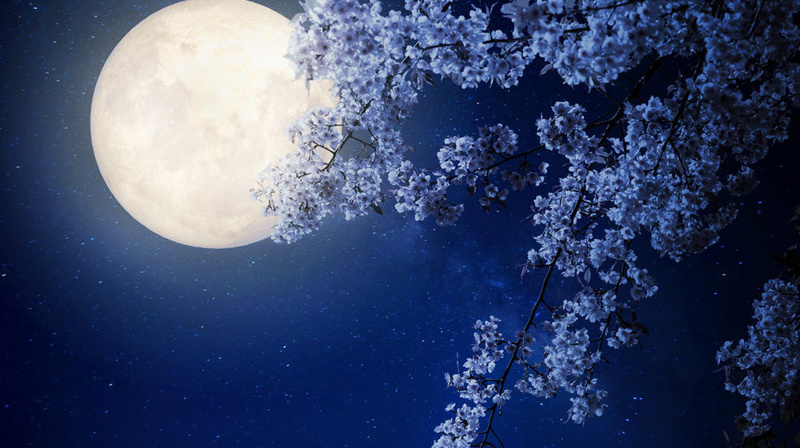 Create a Moonlight Garden
Create a magical oasis in a moonlight garden, featuring white, silver, and cool-colored plants, accessories, and hardscaping that reflect the light of the moon. Water features and fragrant flowers stimulate the senses. When you're done, you'll have an intimate space perfect for nighttime conversation, walks, and meditation.
By the time summer rolls around, the number of daily hours you can spend outside enjoying your garden is limited. The heat and humidity can be downright oppressive, even at the end of the day. So, consider this idea: install a moonlight garden!
Moonlight gardens date back to ancient China and were first seen in the U.S. in the late 19th century. A moonlight garden incorporates plants, hardscapes, and other features that are silver, white, and light blue, standing out in the moonlight. The senses are engaged with water features and fragrant flowers, creating an intimate sanctuary perfect for nighttime walks, reflection, or conversation.
Selecting Your Plants
You'll use a different approach when choosing plants for your moonlight garden than you have for other gardens, since you need flowers that reflect the light of the moon. Colors that glow in the moonlight include white, cream, and silver, and pastels like buttery yellow, pale pink and blue, and light lavender.
Mix heights, textures, and shapes so that special characteristics of each plant stand out from one another. You can do this by including flowers with different growing patterns, small shrubs, vines, and trees in the space.
Part of the magic of a moonlight garden is the sensory experience it offers. Fragrant flowers and the sound of water features are appreciated by our heightened senses, enhancing the nighttime experience.
Here are some options to start with:
Acidanthera
Blue-leaved Hosta (North Florida only)
Moonflower (a night-blooming morning glory)
White impatiens
White roses
Evening primrose
Location Makes All the Difference
Before installing your new garden, take a few factors into consideration. First, make sure that the garden isn't shadowed by nearby trees or structures and will be fully illuminated by the moonlight.
The garden won't be as radiant during the day as it is at night, so consider incorporating the moonlight garden into a larger one.
Lastly, think about the nights when the moon is covered by clouds or is not shining brightly. You can install gentle path lights or string lights or put the garden near an indirect source of illumination, like a window or a porch light.
Plants and More
Pull it all together with the outdoor furniture, hardscaping, pathway features, and more.
Provide seating so that you and your guests can sit and talk in the garden! A simple table and chairs, a swing, or a bench will create the perfect space for an evening conversation or glass of wine.
Choose light hardscaping that will stand out in the moonlight. Light-colored pebbles and stones, a white arbor or trellis, and white planters will contribute to the magic of the garden.
Run a pathway through the garden so that the space can be completely (and safely) enjoyed. Light-colored pavers and soft path lights will stand out and help guide your way as you take in the magic.
Install fountains, small waterfalls, and other water features to create a soothing atmosphere. These features will reflect the moonlight and enhance the sensory experience as you enjoy your oasis.