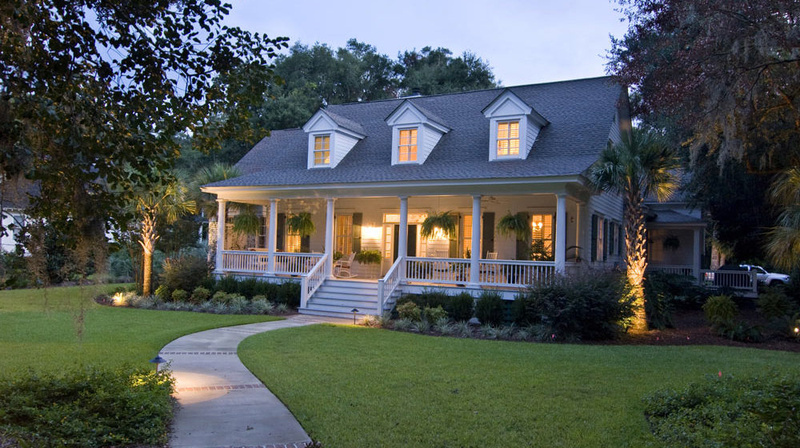 Landscape Lighting to Keep You Safe
Landscape lighting around homes and properties helps to discourage intruders—it's harder to sneak unseen across an illuminated yard. It also prevents visitor accidents—people tripping on roots, steps, and pathway edges. Install lamp posts, floodlights, and solar-powered pathway lights.
When nighttime rolls around, even the ritziest house on the block will be engulfed in black if it has no exterior lighting. A little illumination goes a long way in terms of ambiance, walking safety, and home security. Lighting options are virtually endless and can feel overwhelming if you're starting from scratch. Here we break down different lighting applications and give you some tips for adding each to your property.
Security Lighting
The fact is, dark yards invite intruders and make it easy for them to approach a house undetected. While you may feel that your neighborhood or community is safe, it's a good idea to illuminate at least the front and sides of your home, if not the backyard also.
Intruders aside, nighttime illumination also helps to prevent visitor and resident accidents—people tripping over roots, twisting ankles on sidewalk edges, or walking into low-hanging branches.
Path Lights
Our first suggestion is a simple set of path lights. Inexpensive and accessible, these small lights can line the sidewalk leading to a front door from the driveway. Place them around a porch or patio or along the edges of a backyard bed.
With stakes on the bottom, path lights are easy to install. They are also cost-effective, as many models are solar-powered. In Florida, where we enjoy abundant sunshine, solar-powered path lights are a great option. Battery-powered path lights are also available but remember that it can be a hassle to replace batteries in thirty separate path lights. Purchase path lights from your local lighting retailer, home improvement store, or online.
Floodlights
Install floodlights at key points around your house. A few of these, well-placed, will light up the entire yard. Six units should provide adequate lighting for the average-sized Florida home. Installing these yourself is recommended if you have the proper tools and experience. A general understanding of how to connect wires and mount a fixture should suffice. This will help lower the cost because you will not have to pay for labor.
Two energy-saving tips: invest in movement sensors and purchase LED bulbs. Motion sensors will lower the impact of the new lights on your electric bill, as the floodlights will not run all night. Route the power through the sensor before it goes into the light.
LED light bulbs are significantly more expensive than regular incandescent bulbs, and this is a turnoff to many people. However, where LED bulbs shine is in their longevity. LED bulbs, on average, last fifty times longer than their incandescent counterparts. Using both these tips, you may not replace a bulb in fifteen years!
Permanent Light Fixtures
To illuminate a driveway, consider installing a lamp post at the street end of this hardscape. Lamp posts range in price depending on the material, height, and installation costs. As with the floodlights, installing a permanent light fixture can be done by a homeowner with a little research and motivation. This can cut the overhead cost almost in half. (Otherwise, hire a licensed electrician.)
Street-end driveway lamp posts establish the location and orientation of your house and entry. A warm yellow light emanating from a lamp post creates a welcoming glow for your neighbors and friends. As with floodlights, LED bulbs are highly recommended because of their superior energy efficiency.