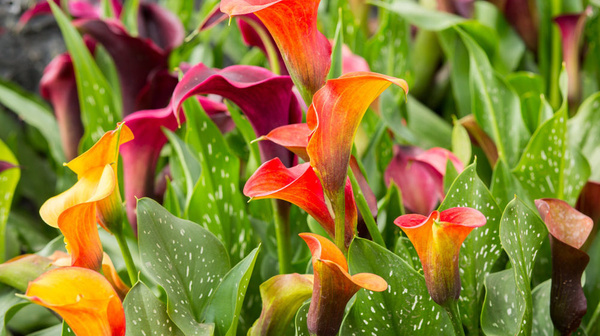 To-Do's for Your Fall Lawn and Garden
September 22nd marked the start of fall, and it's time for homeowners to add tasks to their lawn and garden to-do list. Install cool-weather bulbs, annuals, and perennials; manage irrigation; apply fertilizer and herbicide for healthy fall turfgrass.
We all know that Florida's fall season looks different than it does in other parts of the country. And while you might not be drinking apple cider while a crisp breeze blows orange and yellow leaves across your yard, the weather is still changing, and it's time for homeowners to get ready for their fall landscaping to-dos.
The rainy season is coming to a close, and drier weather is approaching. It's still warm, but not scorching. This means that cool-weather flowers, vegetables, and other plants can replace our summer garden occupants; irrigation schedules can be adjusted, and turfgrass measures should be implemented.
Plant Cool-Weather Flowers
Keep year-round color in your garden by swapping summer flowers for cool-weather annuals and bulbs:
In North Florida, you might plant Phlox, Snapdragon, Sweet Pea, or Impatiens
In Central Florida, consider Alyssum, Celosia, Coleus, Marigold, Periwinkle, Sunflower, Wax Begonia, Torenia, Ageratum, or Zinnia
In South Florida, options include Asters, Amaranthus, Periwinkle, Scarlet Sage, Zinnia, Baby's Breath, Phlox, and Nicotania
Check your local nursery for these bulbs: Zephyr Lily, Narcissus, Calla, or one of the many varieties of Elephant's Ear
Care for your perennials now, too. Separate and replant any that have outgrown their spaces. It's important that perennials get reestablished in the ground before the temperatures drop too low.
Swap Out Your Summer Vegetables
With cooler fall temps, it's no longer necessary to keep only those vegetables that can tolerate high heat and humidity, like okra and sweet potatoes. Fall crops can be planted now, including collard greens, cabbage, broccoli, and carrots.
Prepare the area properly. Remove roots and plant parts left behind from the summer's crops and test the soil's pH level to see if nutrients need adding. Spend a couple of weeks working in rich, organic matter and tilling the soil.
As we talked about in our last blog, it's also time to plant strawberries! Check out that post for more details, but here are the basics:
Plant baby strawberry plants from a local nursery
Space 10 to 18 inches apart
Water often
Regularly apply fertilizer
Irrigate for Drier Weather
You probably have had your sprinkler system turned off for a few months now. However, as daily summer rains taper off, you'll need to assess and set a fall watering schedule. It's a good idea to control your system manually at first to avoid overwatering, but it will soon be time to turn it back on and establish a regular irrigation schedule.
Fall Turfgrass Tasks
You might not know that many municipalities across Florida have fertilizer bans in place through September 30th. The purpose of these bans is to limit fertilizer runoff and avoid lake/groundwater pollution, but as the rainy season ends, the time is nearing for a fall fertilizer application. Talk to your landscaping company about your turfgrass before applying fertilizer, but in general, a "16-4-8" mix of nitrogen, phosphorous, and potassium works to support healthy lawns.
Stop winter weeds before they become a problem by applying a preemergent herbicide. Wait until nighttime temperatures fall to 60 degrees or lower for at least four days in a row. Unfortunately, turfgrass pests can still be an issue through the fall. Be aware of the signs of chinch bug, mole cricket, sod webworm, or fall armyworm damage, and contact your pest control company if you suspect a pest problem.