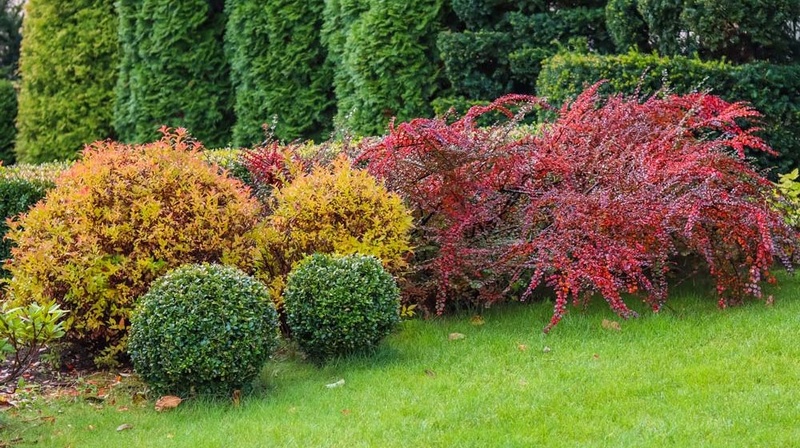 Your Shrub Guide, Part 1: Selection and Planning
Shrubs serve a special role in landscape unity and have near-endless functions. Shrubs may be used as privacy or noise barriers, backdrops for garden features, specimen plants, and more. Determine your purpose for adding shrubs to your property and follow our steps for thoughtful selection.
Florida gardening expert Tom MacCubbin states that "shrubs are the most important uniting factor in any landscape," providing repeated patterns and colors amongst trees, ground covers, and other plantings. We wholeheartedly agree.
Whether you're starting from scratch on your property or are motivated to update your current landscape design, you can consider shrub selection an excellent place to start. Winter is the time to get shrubs in the ground, so let's talk function, planning, planting, and care.
Why Shrubs, Anyway?
Not only do shrubs serve a chief role in uniting a landscape, but they also have many other functions, depending on the type you choose and where you place them.
Plant dense, tall shrubs to create a privacy barrier
Choose thick, small-leafed shrubs to buffer nearby noise
Plant shrubs together to form hedges
Select either natural or formal shrubs to create or reduce movement
Use shrubs as a backdrop for flowers, statues, benches, or other features
Place shrubs along the foundation to soften the edges of your home
Group shrubs together that will show off seasonal colors
Install an attractive shrub in an accent spot as a specimen plant
Plan Carefully
Like trees, shrubs can be difficult to move (not to mention they'll suffer from transplant shock), so planting one should be a relatively permanent decision. We suggest going through several steps to determine the best shrubs for your property and their optimal location:
Start by identifying the purpose you would like the shrub(s) to serve.
Decide whether you want shrubs with certain features, such as unusual leaf shapes, berries, seasonal color, or flowers.
Check the pH of your soil. Most shrubs grow well in slightly acidic to neutral soil (6.5-7.0 pH), but some have other preferences. Avoid selecting a shrub that requires you to constantly adjust the soil pH.
Consult your extension service or local garden center to narrow down shrub varieties that match your preferences and are regionally appropriate. When making this decision, selecting hardy shrubs that won't be severely damaged or killed in a freeze is best.
Determine how many shrubs you need. We suggest planting an odd number of shrubs in a cluster to make a statement and avoid symmetry. Consider their mature width to determine how many, when spaced out, will fill the desired space.
Check the shrubs' light requirements when choosing their location and arrangement. If you have small shrubs that need full sun, don't let taller shrubs or other plants shade them.
Design with aesthetic appeal in mind. Shrubs that hold their interest all year should be on display, perhaps near a patio or entryway.
Taking the time to go through these planning steps is worth it. The last thing you want is a beautiful, new shrub that doesn't last through the year.
A Note on Fall-Blooming Shrubs
You'll find plenty of spring-blooming plants in your search. We recommend adding a few fall-blooming shrubs to the mix for a gorgeous landscape across seasons. Consider beautyberry, firecracker plant, pyracantha, camellia, Texas sage, cassia, or thryallis.
For advice on shrub planting and care, look for our next blog – Your Shrub Guide, Part 2: Planting and Care.