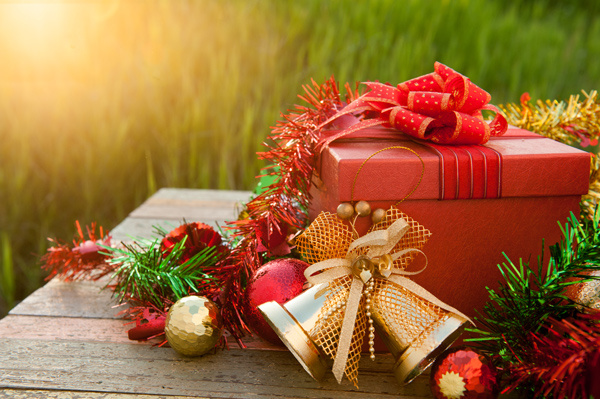 Gifts for Gardening Lovers
Christmas is fast approaching and it's time to start contemplating the perfect gift for the gardening lover in your life. We've compiled a list of gadgets and holiday plants to help you find the right gift for your special person.
Christmas is fast approaching, which means it's about time to start contemplating the perfect gift for the gardening lover in your life. We've put together a list of unique and useful gifts for gardeners that are a bit more interesting than a new pair of gardening gloves. Get your loved one a gardening or landscaping gadget, or select one of our live plant suggestions.
Gardening Gadgets
Garden Camera
Is your green-thumbed friend or family member complaining about garden pests or constantly discussing plant progress? Garden cameras are compact time-lapse cameras that snap photos at predetermined intervals to show growth over time and monitor the presence of animals or pests. Gardeners also enjoy the special, close-up pictures of their favorite plants.
Foldable Utility Cart
For the gardener who is always repotting, transplanting, and doing maintenance work in garden beds around the property, a folding utility cart is a compact and lightweight replacement for a wheelbarrow. The frame is sturdy enough to haul plants and tools but can collapse to slide into a small space in the garage or stow in the trunk of the car.
Gardening Tote
Want a smaller gift for the plant-loving person in your life? A structured canvas garden tote carries all the essential tools they'll need, a couple of small plants, and even a bottle of water.
Landscaping Gadgets
Solar-Powered LED Lighting
The landscaper who dreams up designs for inviting patio and garden spaces will appreciate the addition of lighting to their repertoire of design accessories. Solar-powered LED lights installed along walkways or lining patios not only provide visibility and increase safety but also create a special ambiance everyone can enjoy after sunset.
Smart Sprinkler System
Get your loved one a high-tech solution that will make their life easier and satisfy their landscaping and technology interests. Smart sprinkler systems simplify the task of adjusting watering schedules based on soil conditions and weather. These sprinkler systems can be monitored through a smartphone application that allows your landscaper to see the current soil temperature and water content. They can schedule or postpone the next watering right then and there on their phone.
Give a Gift Plant
Gardeners can never have too many plants to care for and enjoy, which is why we love to give plants as gifts. Here are some of our favorite gift plants:
Christmas Cactus
This unique succulent makes a wonderful holiday gift, even for those who aren't avid gardeners. The Christmas cactus is low-maintenance, easy to propagate, and long-lasting. It blooms red and white during cool seasons but loves humidity and thrives in hardiness zones 9-11, making this a perfect gift for Floridians.
Poinsettia
One of the most classic holiday plants, the poinsettia's deep red and green foliage help to create a beautiful, timeless Christmas feeling. Like the Christmas cactus, tropical poinsettias need light and humidity. In Florida, they can be planted outside and enjoyed for more than just the holiday season.
Orange Tree
Gifting someone an orange tree is a playful take on old traditions, not to mention an appropriate gift for a Florida gardener. Years ago, opening a stocking to find an orange was a special Christmas treat. Likewise, an orange tree will be a special gift for your favorite gardener, as it only gets better over the years.