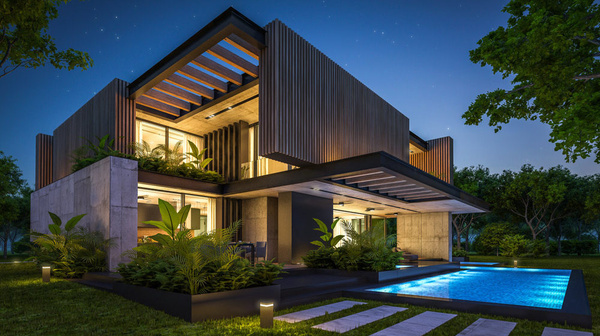 Modernize Your Outdoor Space
Transform your landscaping with inspiring modern design. Emphasize clean lines, angles, and patterns. Balance structured hardscape with subtle color, furniture and design features, and an accent or two. Create warmth with natural elements. Remember that less is more!
Does your landscaping need an update? After a while, the same old layouts can become boring or outdated. Modern and minimalist architectural design has been increasing in popularity in recent years, and the principles transfer well to landscaping! Follow these guidelines to transform your tired yards and beds into inspiring and refreshing outdoor spaces.
Shapes, Lines, and Patterns
One key to a modern landscape is an emphasis on lines, patterns, and shapes. Sharp angles, symmetry, repetition, and open spaces help create a clean look; choosing just a few accents will draw attention to the highlighted designs and colors.
Select a few plant types and repeat them throughout the space.
Choose plants with symmetrical growing patterns to create continuity in design (think bamboo, agave plants, and ornamental grasses).
Shape hedges or trees into clear silhouettes to keep lines and edges clean. A popular choice for a shapeable shrub is Japanese boxwood. 
Keep a healthy and well-manicured lawn to provide color and openness while continuing the modern aesthetic in surrounding plantings.
Colors
Most modern landscape design incorporates subtle hues with just a couple of accents. Go with a few shades of green and carefully choose one or two colorful plants or features that will pop. You might select a plant with bright flowers, install a modern sculpture, or go with bold chair cushions.
Hardscapes
Rock and concrete are often used in modern landscaping, creating a stark contrast between the hardscape and hedges, lawn, ornamental grasses, and other plants. Be strategic in your use of rock and concrete in Florida, however, as they can increase heat levels on the property.
Leave plenty of space between slabs of concrete.
Use rock mulch around structures but not in garden beds. It helps to prevent soil erosion from roof runoff but does not regulate soil temperature like organic mulch does.
Metal elements, like planters or structural supports, contrast dramatically with wood and greenery.
Consider concrete pavers to provide walking and sitting spaces while leaving room for grass, creating patterns, and adding geometric shapes and clean lines to the design.
For a more natural yet modern look, use wood planks to create clean, raised walkways. This is especially helpful on uneven terrain.
Furniture and Features
Furniture selection and design features can make or break your modern landscape.
Furniture with wood contrasts the hardscape with soft color and natural aspects.
Water features like an infinity pool or a small pond add drama to the landscape. If you're lucky enough to have a creek running through your yard, build the space around this natural feature.
Choose furniture with angles and lines to keep consistent with the design.
Modern Doesn't Mean Sterile
You may associate the words "modern" and "minimalist" with a sterile, cold, and unwelcome atmosphere. However, this doesn't have to be the case! Balance rigid structure and sharp angles with natural elements and warm colors.
Train a vine to grow on a modern pergola.
Soften a rigid planter or corner with a strategically placed perennial.
Create warmth with wood, accent cushions or pillows, lighting, and a few flowers.
Be selective and deliberate as you mix color and texture into your design. Choose just one or two colors and keep your plant variety to a minimum. The aesthetic transitions from modern to traditional as more and more plants, colors, shapes, and elements are added.
Remember that less is more. Edit, don't crowd. Modern designs are clean and uncluttered, leaving space to focus and breathe.