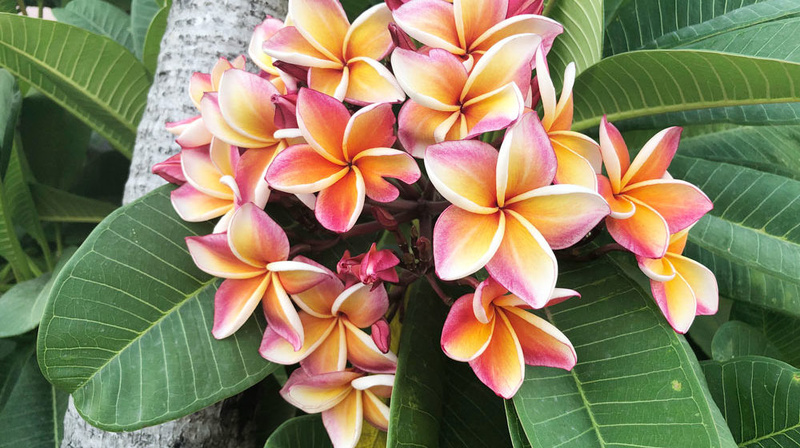 Known as the flower of Hawaiian leis, the fragrant plumeria grows on small- to medium-sized trees that thrive in the warmth of South Florida. Gardeners in Central and North Florida can also enjoy plumeria if they take care to protect the trees from the cold.
A Taste of the Tropics
If you've ever dreamed of a vacation in Hawaii, chances are that hula dancers wearing plumeria leis figured somewhere in your visions. Plumeria–those simple, lovely, pinwheel flowers–aren't native to Florida, but with a bit of care, they can thrive here, too.
The plumeria, or frangipani, is native to Venezuela, Colombia, Central America, Mexico, and the Caribbean, but its popularity has led to plantings in tropical and subtropical regions across the world. These climates provide the full sun and mild weather that this tropical tree requires.
Plumeria blooms may be pink, yellow, white, or a combination of the three. They are the quintessential flower for Hawaiian leis, but in Florida, they can be enjoyed on the tree or in a vase on the dining room table.
The Most Fun in the Most Sun
The plumeria's love for the sun makes it best suited for South Florida, where the threat of frost is minimal. Most homeowners here will see their plumerias grow to robust small trees. Florida gardeners in locations farther north should pot these plants and bring them indoors when temperatures dip to 50 degrees or cooler.
Homeowners in Central Florida that want to try growing plumeria should keep an eye on the forecast and be diligent in offering the tender plant a warm refuge during cold nights. The farther north you live in the state, the more care you'll have to give your plumeria.
Planting Considerations
In warm areas, plumeria can be planted outside as a specimen, as the focal point of a bed, or in a small grouping. Potting it will produce a smaller plant but allow you the flexibility of moving it around if you enjoy variety in your landscape, or if you need to bring it inside in winter.
When deciding how to incorporate plumeria into your landscape, here are some other considerations:
Fragrance. The sweet smell of the blossoms is one of the most attractive qualities of the plant. A pot on a patio or a tree near a bench will allow you to enjoy the scent as well as the visual beauty.
Placement. The plant's branches are thick but brittle, so plan and plant accordingly. Avoid placing it in a high traffic area where it may get bumped or knocked. The milky sap inside can irritate eyes or skin.
Height. Potted, it will typically grow only a few feet tall. Planted in the ground, it may reach 20-40 feet.
Easy to Share
Though you might be tempted to keep your plumeria to yourself after it becomes the talking piece of the neighborhood, it is an easy plant to gift to friends or family. Propagate from stem cuttings in the spring. Recipients may have to wait patiently for two or three years for these single-stemmed plumerias to grow large enough to flower, but the payoff will make the wait worth it.
The beauty and aroma of the plumeria have made it a widely recognized and loved plant. With a little bit of planning and care, Florida homeowners can enjoy its stunning blossoms indoors and out.