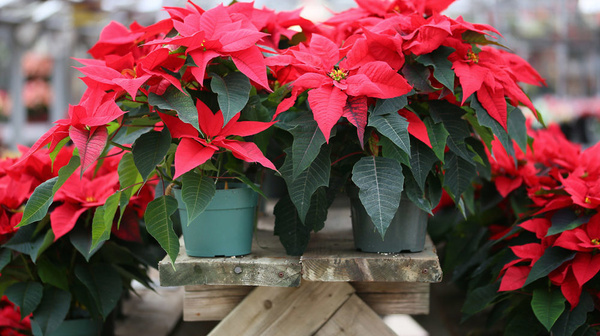 Get Your Landscaping Holiday Ready
Prepare your landscape for the upcoming holiday season—by attending to your lawn, irrigating appropriately, and planting cool-weather plants—so it will look its best without distracting you from your loved ones. The best landscape is the one shared with friends and family.
With the change of seasons comes a new set of landscape maintenance requirements. Here, we'll talk about those tasks that will prepare your plants for the cooler weather (and make your property more presentable to guests!). Complete them in the next week or two for best results.
Lawn Care
Keep an eye out for Large Patch Fungus, also known as Brown Patch, this time of year. This fungal disease can appear in St. Augustine grass and zoysia grass as discolored, round patches in your turfgrass. The patches usually begin fairly small (approximately 1ft across), and the colors range from yellow, red-brown, to brown as it grows in size.
Large Patch is caused by excessive water in the grass for more than 48 hours. Lots of rainfall, over-watering, or high humidity for long periods can all trigger the infection. If you suspect large patch, check for the telltale signs: dark, soft leaf bases and a rotten smell. Chemical controls are a treatment option, but first-line treatment will include decreasing irrigation and any nitrogen applications. Mow diseased spots last since the fungus will spread from the mower.
Irrigation
Lawn and plants require less supplemental irrigation in the fall and winter months, so turn off or reduce the amount of water delivered. Watering fewer times per week or delivering less water each time are two options. Our recommendation is to turn the sprinklers on manually and only as needed.
Planting
Cool-season plants are a beautiful addition to any bed in the fall. You can't go wrong with pansy, snapdragon, viola, cape daisy, dianthus, or alyssum. If you're planting bulbs, consider daylily, crinum, or amaryllis. These bulbs prefer to start out in cooler weather, so November is the perfect time to get them in the ground.
Many herbs also flourish in cool weather, including parsley, thyme, sage, and cilantro. Keep planting these from plants or seeds. Cabbage, broccoli, kale, carrot, lettuce, and beets are cool-season vegetables that can continue to be planted as well.
Poinsettias
If you want this quintessential Christmas plant (second only to the Christmas tree, of course) to be healthy and thriving for Saint Nick's arrival, start by attending to two simple needs.
Protect them from frost and freezing temperatures. If they're outside in a pot, bring them inside on the coldest nights.
Keep an eye out for hornworms, which can leave your prized poinsettias chewed up and defoliated. In this case, handpicking is the quickest and most reliable pest control method.
Hornworms
Keep them off your poinsettias!
Wrapping Up
Thanksgiving is right on the doorstep and Christmas isn't far behind. These are the times we set our hectic schedule aside and consider the people closest to us and those things we're most grateful for. And while the state of your landscape probably won't top that list, caring for it now might free up some of the mental and emotional space you need to connect with your loved ones. So, this November, be attentive to your lawn, your plants, those pesky hornworms, and the people around you who make it all worth it.