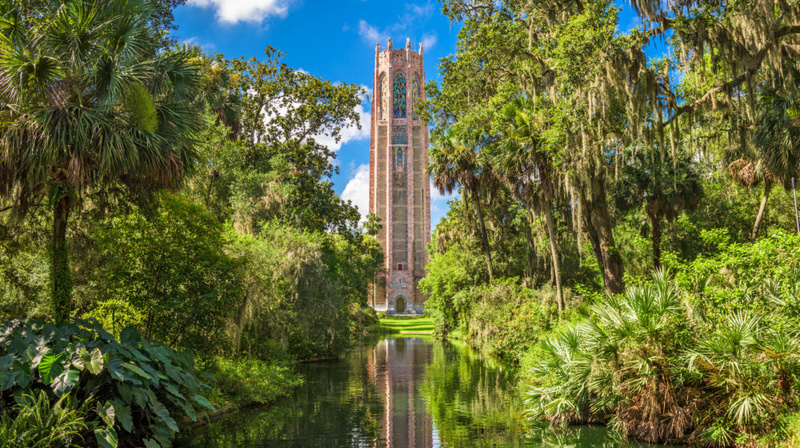 Explore Florida's Public Gardens This Fall
Enjoy the pleasant fall weather and visit one of Florida's beautiful public gardens. Spending time outside is stress-relieving and relaxing, and you're sure to come away from a garden visit with ideas and inspiration for your own landscaping.
The mild, pleasant temperatures of Florida's fall make the season an excellent time to discover the state's public gardens. Spending time in nature can be rejuvenating, relaxing, and stress-relieving; a garden visit may be just what you need as the busy holiday season approaches. Plus, you may find some inspiration to give your landscaping and garden beds a makeover.
North Florida: Alfred B. Maclay Gardens
If you find yourself in Tallahassee, make some time to visit Alfred B. Maclay Gardens State Park. The park centers around the historic Maclay family home, built in 1909. Surrounding the house are ornamental gardens featuring a reflection pool, gorgeous trees, a scenic walking path, hundreds of camellias and azaleas, and even a secret garden.
Beyond the gardens and home, this park offers plenty of outdoor activities for the family to enjoy. Visitors can kayak, canoe, fish, and swim in Lake Hall or picnic at a lakeside pavilion. Trails for walking, running, or biking zigzag across the land around the home.
Central Florida: Leu Gardens
Harry P. Leu Gardens sits in the middle of downtown Orlando and Winter Park. It displays a brilliant collection of plants that thrive in Central Florida, including philodendrons, oaks, and roses. In addition to the beautiful gardens, you can enjoy the Leu House Museum, a reference library, and an art exhibit.
If you visit Leu Gardens as a family, the garden provides entertaining activities for all ages. Use clues and GPS coordinates to find hidden containers throughout the garden, or scan QR codes on display signs to learn about featured plants.
South/Central Florida: Bok Tower Gardens
Visit Bok Tower Gardens for a unique experience in Lake Wales. A historic mansion, endangered plant garden, reflection pool vista, and pollinator garden all sit on this 7.5-acre property. The most striking and recognizable feature of this garden is, of course, Bok Tower. This ornate bell tower holds a carillon, an instrument of 60 bells, and guests can attend memorable carillon concerts.
South Florida: Fairchild Tropical Botanic Garden
Continue south to Miami to visit Fairchild Tropical Botanic Garden, an 83-acre horticultural wonderland. Founded in 1939, this garden features a tropical fruit pavilion, sunken garden, 700-foot-long pergola, succulent collection, exotic butterfly exhibit, and tropical flowering tree arboretum. It boasts over 3,400 species of plants and serves as a venue for live music and weddings.
Fairchild is deeply committed to conservation, education, and community enrichment, hosting classes, field trips, and fun events throughout the year. This is a place to bring the entire family: the garden even features a 2-acre rainforest and an interactive children's garden. And if your children happen to be four-legged and furry? Fairchild hosts "Dog Dates" with plenty of activities to keep you and your pup busy.
This is a small selection of Florida's spectacular public gardens. No matter where you're located in the state, there's a garden within driving distance. Make some time this fall to visit a new garden and leave with ideas and inspiration for your own landscaping.