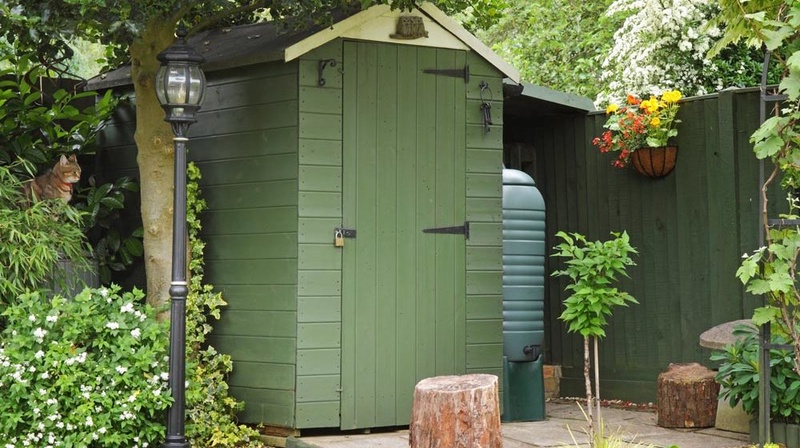 Where to Store Your Landscaping Stuff
With many lawn care tasks on hiatus during the winter, homeowners have time to address other outdoor projects such as beefing up storage solutions. In this article, we present storage options from small (a deck box) to large (a prefabricated shed or a shipping container).
Winter is a great time to assess your outdoor storage needs and do something about them. Once spring arrives, you'll be back in the throes of plant care, bed care, and mowing, with less time for other landscaping projects.
What do we mean by outdoor storage needs? We're talking about where you put things like lawnmowers, wheelbarrows, fertilizer spreaders, bags of manure and mulch, lawn care tools, trellises, stakes, garden art, and general outdoor paraphernalia.
If you're like the typical homeowner, your garage is currently the holding place for the above items. Re-claim the garage for other uses (such as parking your car!) by implementing the following outdoor storage solutions.
Small Boxes and Cabinets
Don't have room in your yard for a barn or a shed? Go small with deck boxes or outdoor cabinets. These storage containers can sit or stand on a back porch or against an exterior back wall or fence.
Standard purchased deck boxes range in size from 50-gallon to 200-gallon boxes. You will pay $30 to $50 for the former and $200 for the latter.
Outdoor cabinets are usually taller than they are wide and make good places for storing long tools like rakes, shovels, brooms, string trimmers, and edgers. Their compact footprint means they don't require much real estate. Expect to pay between $100 and $400 for an outdoor cabinet purchased from a garden center or home improvement store.
Small to Medium-Sized Sheds
Homeowners who invest time in doing their own lawn care and landscaping need larger storage solutions than deck boxes and cabinets. If this is you, a shed will meet your storage needs better.
Most suburban properties, and many urban properties, have room for a small-to-medium backyard shed. You don't have to build one from scratch. Most garden centers and home improvement stores carry fully assembled sheds that can be delivered to your property.
Shed sizes usually start at 5'x5' and can be as large as 12'x20'. Expect to pay $400-$500 for the smaller size and more for bigger sheds. They are made of a rubber/plastic composite, wood, or metal and are weather resistant.
Covered Pad or Shipping Container
Used shipping containers are very sturdy and stand up to hurricane-force winds without moving an inch. Consider purchasing a shipping container and getting it delivered to the side or back of your property. The standard size is 8 feet wide, 8.5 feet tall, and either 20 or 40 feet long. "High-cube" containers are extra tall at 9.5 feet.
Shipping containers usually have a pair of double doors at one end. Hire a tradesperson to customize your container with windows and a side door for light and easier access.
An open storage solution is a simple concrete pad with a roof over the top. Some homeowners can build this themselves or do the project with hired help. Remember to check with your local building department to see if any permits are necessary. Erecting a half-wall on one or two sides provides a place to hang tools or stack items that need some weather protection.