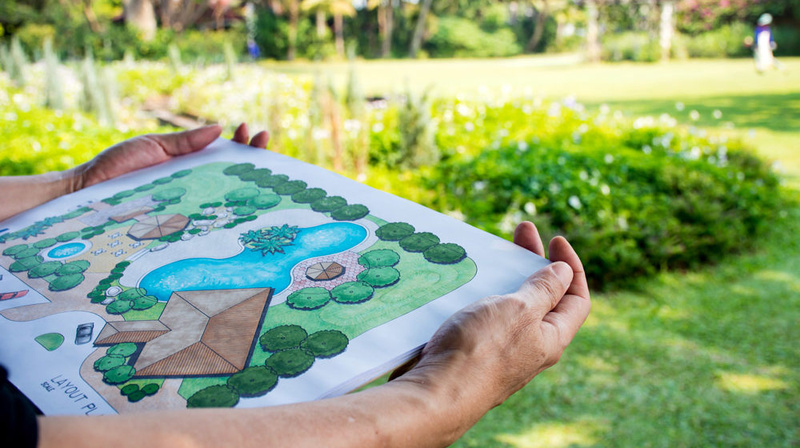 Landscaping Resolutions for the New Year
Why limit new year's resolutions to your lifestyle when you can make landscape resolutions for 2023? We've compiled our suggestions for the year: update your landscaping; create a comfortable outdoor space; commit to Florida-Friendly Landscaping principles; invest in property maintenance; and plan ahead.
With each January comes the opportunity for fresh starts. Many of us use this time to set goals and intentions for the coming year, but why limit new year's resolutions to your own habits and lifestyle?
We've put together a list of landscaping resolutions for the new year. We encourage you to read through our suggestions and pick a few that apply to your property's needs and push you to spruce things up a bit.
Change Things Up with New Plants and Colors
If you haven't updated your landscaping in a while, now is the time. Landscaping can make or break the appearance of your property. Don't let stale landscaping date your home!
Freshen up your garden beds by adding some color. Flowers like calendula, alyssum, pansy, and poppy can brighten your landscaping during this winter season.
Change it up a bit. Select and plant a specimen tree for your front or side yard or install a moonlight or water garden for variety and added interest.
Create a Comfortable Outdoor Space
Spend more time outside this year in a relaxing and inviting outdoor area. Install a paver patio with comfortable seating and lighting for the evenings.
If you already have a patio or deck, enhance your outdoor space with one or two of the following:
Fire pit
Water feature
Swing
Hammock
Gazebo
Pergola
Tiki torches, string lights, or path lights
Commit to Florida-Friendly Landscaping
Make a positive environmental impact this year with Florida-Friendly Landscaping. There are nine principles of Florida-Friendly Landscaping based on research from the University of Florida.
Right plant, right place
Water efficiently
Fertilize appropriately
Mulch
Attract wildlife
Manage yard pests responsibly
Recycle
Manage stormwater runoff
Protect the waterfront
You can learn more about these nine principles here: https://ffl.ifas.ufl.edu.
Invest in Property Maintenance
Keep your property in tip-top shape this year by investing in its maintenance. This can mean several things, from spending more time doing yardwork to hiring a landscaping crew.
If you have the time and motivation to perform regular property maintenance yourself, investing may look like purchasing new equipment or setting aside one Saturday a month for yard projects.
It may be better for you and your property to hire out landscape maintenance services. If you don't already have a local landscaping company you trust, find one. Hire an arborist to inspect and prune your trees.
Plan for the Future
Take some time this month to think about the upcoming seasons and how you would like your gardens to look. Walk through your property, take stock, and ask yourself some questions. What's missing? What did you grow last year that you would like to grow again? What did you miss out on that you need to put more energy into this year?
Follow your answers with research and planning. If you want to plant bulbs, find out when they need to be in the ground. Identify seasonal colors you wish to see in your gardens and schedule planting time. If you plan to grow a vegetable garden, decide if you will start seeds indoors and mark their planting times on your calendar.