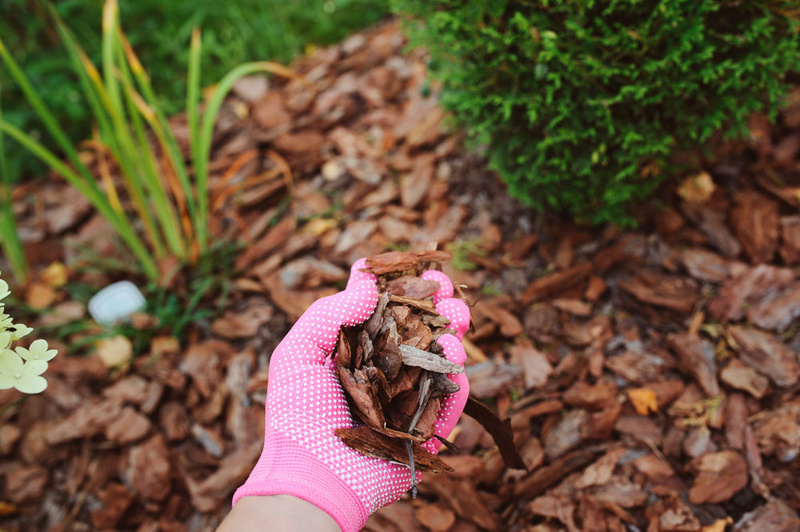 Ground Covers: Beyond Bark and Chips
While pine bark nuggets and red cypress chips are typical ground cover choices for Florida property owners, a host of other options are available: hardwood mulches, pine straw, rubber mulch, rock, lava, plants, pine cones, nut hulls, and tumbled glass chunks.
Pine bark nuggets or red cypress chips are the average Florida homeowner's ground cover go-to, as evidenced by a drive through most Sunshine State neighborhoods. These materials are affordable, readily available at garden centers and nurseries, and can be purchased easily in bulk quantities.
But are there other ground cover options? Individual homeowners who manage their own properties—as opposed to those in communities with landscape maintenance provided—actually have quite a few ground cover choices. These include both organic and inorganic spreads, plant covers, and materials that are uncommon and eye-catching.
Organic Spreads
Organic ground covers run the gamut of mulches on the market. As mentioned above, mini or large pine bark nuggets are a perennial favorite and lend a natural, rustic look to a landscape.
Hardwood bark mulches tend to be dark, relatively heavy, and able to resist washing off a sloped area or hill. Red or black dyed oak mulch retains color well. Pine bark mulch is ground-up wood with a softer overall look than nuggets.
Some tree service companies give away pine bark mulch for free. This mulch is usually more coarsely ground than bagged or packaged pine bark mulch and occasionally may contain pockets of moldy pieces. For properties with large beds requiring many cubic yards of ground cover, this mulch may be worth the coarser appearance and occasional mold pockets.
Pine straw, an organic mulch that is a north Florida favorite, is somewhat harder to distribute than bark mulches or nuggets because of its light weight and interlacing needles. Once spread around a bed, however, it provides a soft, consistent layer over earth and around plants.
Inorganic Spreads
Rubber mulch is typically made from recycled, dyed rubber and is available in a spectrum of colors. It outlasts wood mulch and does not float or blow away. Many homeowners like installing rubber mulch around their foundations because it does not draw termites, mosquitoes, or other insects.
Rock ground covers are becoming more popular, especially as the variety on the market increases. Homeowners now can purchase polished black pebbles, light-colored lava pebbles, white beach pebbles, pea gravel, marble chips, egg rock, red lava chunks, and river rock.
While rock is more expensive than mulch and involves a higher upfront cost, it lasts for years and does not have to be replaced.
Plant Ground Covers
Florida homeowners who prefer plant ground covers enjoy a wide selection to choose from. This includes beach morning glory, daylily, English ivy, liriope, Mondo grass, society garlic, shore juniper, asparagus fern, begonia, sword fern, blue daze, bromeliads, dwarf lantana, Carolina jasmine, aloe plant, dichondra, heather, mimosa, oyster plant, periwinkle, spider plant, and wandering Jew.
Unusual and Eye-catching Covers
A browse through idea-collecting websites such as Pinterest yields ground cover inspirations that are innovative and interesting. Get creative and cover spaces with colored glass, tumbled into smooth-edged chunks. Spread pine cones, nut hulls, or cocoa bean shells. Utilize leaves that have fallen or grass clippings and make these a groundcover. After a storm, collect seaweed on the beach and spread a layer over your beds.
#floralawn #lakeland #landscape design #mulch #groundcover